It was just Mother's Day, so what better way to celebrate than to remember my favorite fictional mother, Satrine Rainey, heroine of the Maradaine Constabulary books.
Especially since German Satrine has a bad-ass coat.  Look at what she's rocking.
So the Germans have to wait a couple more months to meet Satrine, but between A Murder of Mages and An Import of Intrigue AND her guest-starring in The Imposters of Aventil, you've got three books of her to enjoy before A Parliament of Bodies comes out next year.
So if you haven't checked out A Murder of Mages yet, get on that.  Here's a few more review highlights:
First, over at Mutt Cafe:
I love a well done classic fantasy, particularly when it's combined with my other love, mystery. A Murder of Mages, Maresca's debut Maradaine Constabulary novel, does just that.
Next, over at Books and Ladders:
I quite enjoyed Satrine. She was a badass and did what she had to in order to survive and provide for her family. I am looking forward to seeing more of her quick wit in action because she was a treat to read about.
Chris from SFandF Reviews:
"The presence of the city, a dark, grimy, lively place, invades the reader by degrees. It's not a place that leaps off of every page – but rather, one that seeps into your fingers as you turn those pages."
From Bibliotropic:
"Maresca's novels are certainly getting attention from fantasy readers, and I'd say it's well-deserved. Quick reads, good action, and just generally very fun books to have around. I'm already a fan of both branches of Maradaine novels, and I'm looking forward to what new fun stories he'll tell in that world in the future."
From Bookaneer:
"Interesting characters, intricate worldbuilding, and a mystery that kept me hooked? Count me in for the sequel. It can't come soon enough."
From Powder and Page:
"Without hesitations, I would say that A Murder of Mages deserves 5 out of 5 stars!"
And, of course, if you want to read an excerpt, there's one here.
---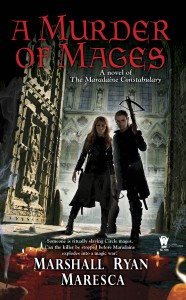 Satrine Rainey: Former street rat. Ex-spy. Wife and mother who needs to make twenty crowns a week to support her daughters and infirm husband.  To earn that, she forges credentials and fakes her way into a posting as a constabulary Inspector.
Minox Welling: Brilliant Inspector. Uncircled Mage. Outcast of the stationhouse.  Partnered with Satrine because no one else will work with "the jinx".
Their first case together—the ritualized murder of a Circled mage—brings Satrine back to the streets she grew up on, and forces Minox to confront the politics of mage circles he's avoided.  As more mages are found dead, Satrine must solve the crime before her secrets catch up with her, and before her partner ends up a target.
READ AN EXCERPT
Goodreads Page for A MURDER OF MAGES
Available at Amazon, Barnes & Noble, IndieBound and more!