S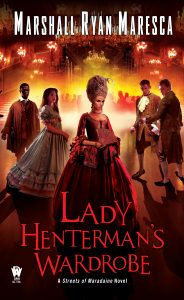 o, now that The Imposters of Aventil is out in the world, it's time to look further ahead.  Fortunately, I have a good idea what that's going to look like.
First off, next March we have the second book in the Streets of Maradaine series, Lady Henterman's Wardrobe.  This is a rollicking adventure with Asti and Verci Rynax and the rest of the North Seleth Crew, as their quest for vengeance takes them WELL out of their comfort zone…
Mixing high fantasy and urban fantasy, the second novel of the Streets of Maradaine series follows the Rynax brothers' crew of outlaws as they attempt their biggest heist yet and restore justice to the common people.

The neighborhood of North Seleth has suffered–and not just the Holver Alley Fire. Poverty and marginalization are forcing people out of the neighborhood, and violence on the streets is getting worse. Only the Rynax brothers–Asti and Verci–and their Holver Alley Crew are fighting for the common people. They've taken care of the people who actually burned down Holver Alley, but they're still looking for the moneyed interests behind the fire.

The trail of breadcrumbs leads the crew to Lord Henterman, and they plan to infiltrate the noble's house on the other side of the city. While the crew tries to penetrate the heart of the house, the worst elements of North Seleth seem to be uniting under a mysterious new leader. With the crew's attention divided, Asti discovers that the secrets behind the fire, including ones from his past, might be found in Lady Henterman's wardrobe.
Following that, later in 2018 will see the release of A Parliament of Bodies, the third Maradaine Constabulary novel.  Inspectors Satrine Rainey and Minox Welling investigate a series of gruesome murders, leading them to a horrific situation on the very floor of the Druth Parliament, where the only ally they have is a member of the elite Tarian Order, who believes he's crossed paths with the deranged mind behind the murders.
And then what's next?
I will be telling you very soon.  But rest assured: more will be coming.