THE STREETS OF MARADAINE
Blending high fantasy, crime fiction and daring heists, the Streets of Maradaine features Asti and Verci Rynax, two former thieves who tried to go straight, but dragged through the ashes of tragedy back into their old life.
"While Maresca has been building the Maradaine universe across multiple books and connected series, The Holver Alley Crew marks a new chapter in the city's story, and a great entry point for new readers." – Barnes & Noble Fantasy Blog
---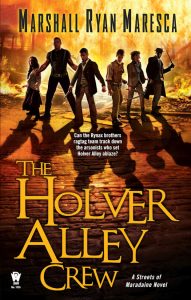 THE HOLVER ALLEY CREW
"The whole narrative is tightly plotted, and each page makes you want to turn to the next – it's got fires, knife fights, brawls, daring escapes, explosions, and a lot of heart – and as such, I'm looking forward to seeing what adventures the Holver Alley Crew go onto from here." – SF & F Reviews

The Rynax brothers had gone legit after Asti Rynax's service in Druth Intelligence had shattered his nerves, and marriage and fatherhood convinced Verci Rynax to leave his life of thievery.  They settled back in their old neighborhood in West Maradaine and bought themselves a shop, eager for a simple, honest life. Then the Holver Alley Fire incinerated their plans. With no home, no shop, and no honest income—and saddled with a looming debt—they fall back on their old skills and old friends.
With a crew of other fire victims, Asti and Verci plan a simple carriage heist, but the job spirals out of control as they learn that the fire was no accident. Lives in Holver Alley were destroyed out of a sadistic scheme to buy the land.  Smoldering for revenge, burdened with Asti's crumbling sanity, the brothers lead their crew of amateurs and washouts to take down those responsible for the fire, no matter the cost.
READ AN EXCERPT
Goodreads Page for THE HOLVER ALLEY CREW
Available at Amazon, Barnes & Noble, and more!
---
LADY HENTERMAN'S WARDROBE
Forthcoming March 2018
The neighborhood of North Seleth has suffered– and not just the Holver Alley Fire. Poverty and marginalization are forcing people out of the neighborhood, and violence on the streets is getting worse. Only the Rynax brothers—Asti and Verci—and their Holver Alley Crew are fighting for the common people.  They've taken care of the people who actually burned down Holver Alley, but they're still looking for the moneyed interests behind the fire.
The trail of breadcrumbs leads the crew to Lord Henterman, and they plan to infiltrate the noble's house on the other side of the city.  While the crew tries to penetrate the heart of the house, the worst elements of North Seleth seem to be uniting under a mysterious new leader.  With the crew's attention divided, Asti discovers that the secrets behind the fire, including ones from his past, might be found in…

Goodreads Page for LADY HENTERMAN'S WARDROBE