THE MARADAINE CONSTABULARY
Blending high fantasy, murder mystery and gritty urban magic, this series features Inspectors Satrine Rainey and Minox Welling, two detectives in the city constabulary who protect Maradaine from crime, both magical and mundane.
---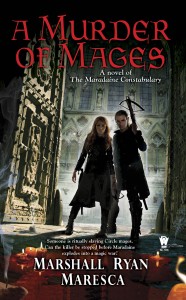 A MURDER OF MAGES
"A Murder of Mages was another hit for me, a fantastic read from a new talent whose star continues to be on the rise."  – Bibliosanctum
Satrine Rainey: Former street rat. Ex-spy. Wife and mother who needs to make twenty crowns a week to support her daughters and infirm husband.  To earn that, she forges credentials and fakes her way into a posting as a constabulary Inspector.
Minox Welling: Brilliant Inspector. Uncircled Mage. Outcast of the stationhouse.  Partnered with Satrine because no one else will work with "the jinx".
Their first case together—the ritualized murder of a Circled mage—brings Satrine back to the streets she grew up on, and forces Minox to confront the politics of mage circles he's avoided.  As more mages are found dead, Satrine must solve the crime before her secrets catch up with her, and before her partner ends up a target.
READ AN EXCERPT
Goodreads Page for A MURDER OF MAGES
Available at Amazon, Barnes & Noble, IndieBound and more!
---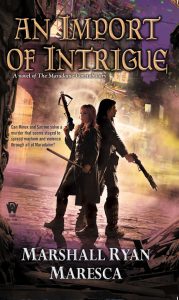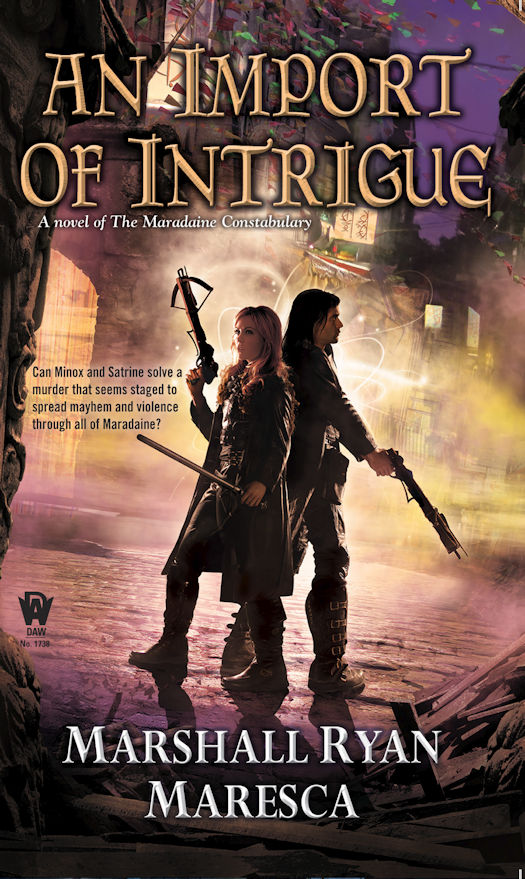 AN IMPORT OF INTRIGUE
"Maresca offers something beyond the usual high fantasy fare, with a wealth of unique and well-rounded characters, a vivid setting, and complicatedly intertwined social issues that feel especially timely."  – Publishers Weekly
The neighborhood of the Little East is a collision of cultures, languages, and traditions, hidden away in the city of Maradaine. A set of streets to be avoided or ignored. When a foreign dignitary is murdered, solving the crime falls to the most unpopular inspectors in the Maradaine Constabulary: exposed fraud Satrine Rainey, and uncircled mage Minox Welling.
With a murder scene deliberately constructed to point blame toward the Little East, Rainey is forced to confront her former life, while Welling's ignorance of his own power threatens to consume him. And these few city blocks threaten to erupt into citywide war unless the constabulary solves the case.
READ AN EXCERPT
Goodreads Page for AN IMPORT OF INTRIGUE
Available at Amazon, Barnes & Noble, IndieBound and more!
---
A PARLIAMENT OF BODIES
Forthcoming Spring 2019

Inspectors Rainey and Welling endure trials and corruption as their investigation into the most gruesome murders of their careers leads them out of their jurisdiction and into the highest halls of power in the nation: The Druth Parliament.
Goodreads Page for A PARLIAMENT OF BODIES