Blending high fantasy, murder mystery and gritty urban magic, this series features Inspectors Satrine Rainey and Minox Welling, two detectives in the city constabulary who protect Maradaine from crime, both magical and mundane.
"Maresca offers something beyond the usual high fantasy fare, with a wealth of unique and well-rounded characters, a vivid setting, and complicatedly intertwined social issues that feel especially timely."  – Publishers Weekly
"A Murder of Mages was another hit for me, a fantastic read from a new talent whose star continues to be on the rise."  – Bibliosanctum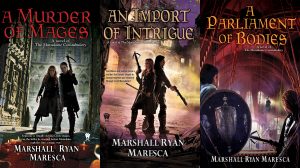 A MURDER OF MAGES
Satrine Rainey: Former street rat. Ex-spy. Wife and mother who needs to make twenty crowns a week to support her daughters and infirm husband.  To earn that, she forges credentials and fakes her way into a posting as a constabulary Inspector.
Minox Welling: Brilliant Inspector. Uncircled Mage. Outcast of the stationhouse.  Partnered with Satrine because no one else will work with "the jinx".
Their first case together—the ritualized murder of a Circled mage—brings Satrine back to the streets she grew up on, and forces Minox to confront the politics of mage circles he's avoided.  As more mages are found dead, Satrine must solve the crime before her secrets catch up with her, and before her partner ends up a target.
Purchase at Amazon, Barnes & Noble, IndieBound and more!

AN IMPORT OF INTRIGUE

The neighborhood of the Little East is a collision of cultures, languages, and traditions, hidden away in the city of Maradaine. A set of streets to be avoided or ignored. When a foreign dignitary is murdered, solving the crime falls to the most unpopular inspectors in the Maradaine Constabulary: exposed fraud Satrine Rainey, and uncircled mage Minox Welling.
With a murder scene deliberately constructed to point blame toward the Little East, Rainey is forced to confront her former life, while Welling's ignorance of his own power threatens to consume him. And these few city blocks threaten to erupt into citywide war unless the constabulary solves the case.
Purchase at Amazon, Barnes & Noble, IndieBound and more!
A PARLIAMENT OF BODIES
The city of Maradaine is vexed by the Gearbox Murders: a series of gruesome deaths orchestrated by a twisted mechanical genius. With no motive and no pattern, Inspectors Satrine Rainey and Minox Welling—the retired spy and untrained mage—are at a loss to find a meaningful lead in the case. At least, until the killer makes his most audacious exhibit yet: over a dozen victims in a clockwork deathtrap on the floor of the Druth Parliament.
The crime scene is a madhouse, and political forces conspire to grind their investigation to a halt. The King's Marshals claim jurisdiction of the case, corruption in the Constabulary thwarts their efforts, and a special Inquest threatens to end Minox's career completely. Their only ally is Dayne Heldrin, a provisional member of the Tarian Order, elite warriors trained in the art of protection. But Dayne's connection to the Gearbox Murders casts suspicion on his motives, as he might be obsessed with a phantom figure he believes is responsible.
While Satrine and Minox struggle to stop the Gearbox from claiming even more victims, the grinding gears of injustice might keep them from ever solving these murders, and threaten to dismantle their partnership forever.
Purchase at Amazon, Barnes & Noble, IndieBound and more!